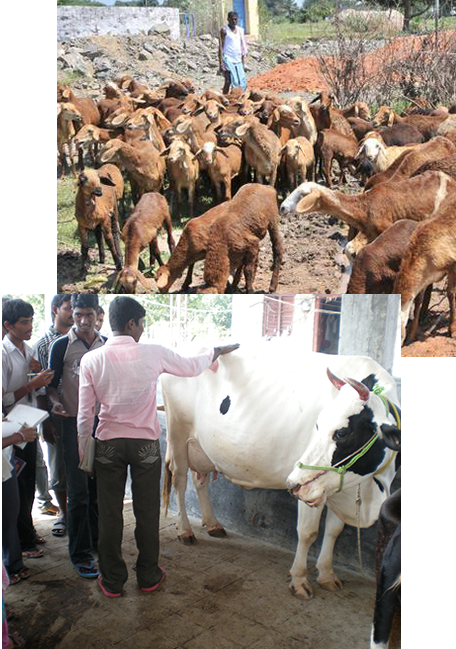 Our contribution is not restricted within the beneficiaries of the micro-finance. We are giving training to the people regarding the various types of integrated farming irrespective of geographic and demographic fringes. We have done this in three steps:
Capacity Building:
We design and implement need-based training-programs on livestock -development and farm-management for them. At the outset we executed the Participatory -Appraisal for diagnosing the need of the people. On the basis of the detected needs we formulate appropriate training programs for upgrading the capacity of our clients. Moreover we followed an interactive pedagogy, while conducting such flexible training –programs, with the aim of rekindling confidence among the trainees. We make judicious utilization of audio-visual training materials to make the training more realistic and palpable. It has been found that after receiving the training inputs, our clients achieve the capability of alleviating their day-to-day operational problems. Such a client-centric approach has helped us to gain popularity amidst our beneficiaries.
Project Formulation:
The technical experts attached with us frequently formulate cost-effective income-generating projects pertaining to animal-husbandry and fishery for our clients. Before designing the projects we probe through the geographical and demographical factors that are likely going to exert decisive influence upon the projects. While designing projects, we take care of all the project-components related to backward linkage as well as forward linkage. Keeping in mind, the probable contingencies, we sketch the crisis alleviation strategy, for our clients with special care and concern.
Monitoring & Evaluation:
Unlike the traditional project-consultants, we have never kept ourselves cloistered within the functional domain of Project-formulation. Rather we have extended ourselves to the pastoral farms where our technical experts monitor the modus operandi of the projects framed by us. Through vigilant perusal, we try to detect whether there prevails any deviation between the planned schedule and the activities implemented. If there is any such flaw in project-implementation, we explicate the planned schedule repeatedly until and unless our clients achieve conceptual clarity regarding the style of effective implementation. Thus we carry out our constant endeavor in making our planned projects economically viable, through judicious utilization of project-inputs and maximization of project-output.